Top Posters
Newest Members
13 Feb 2019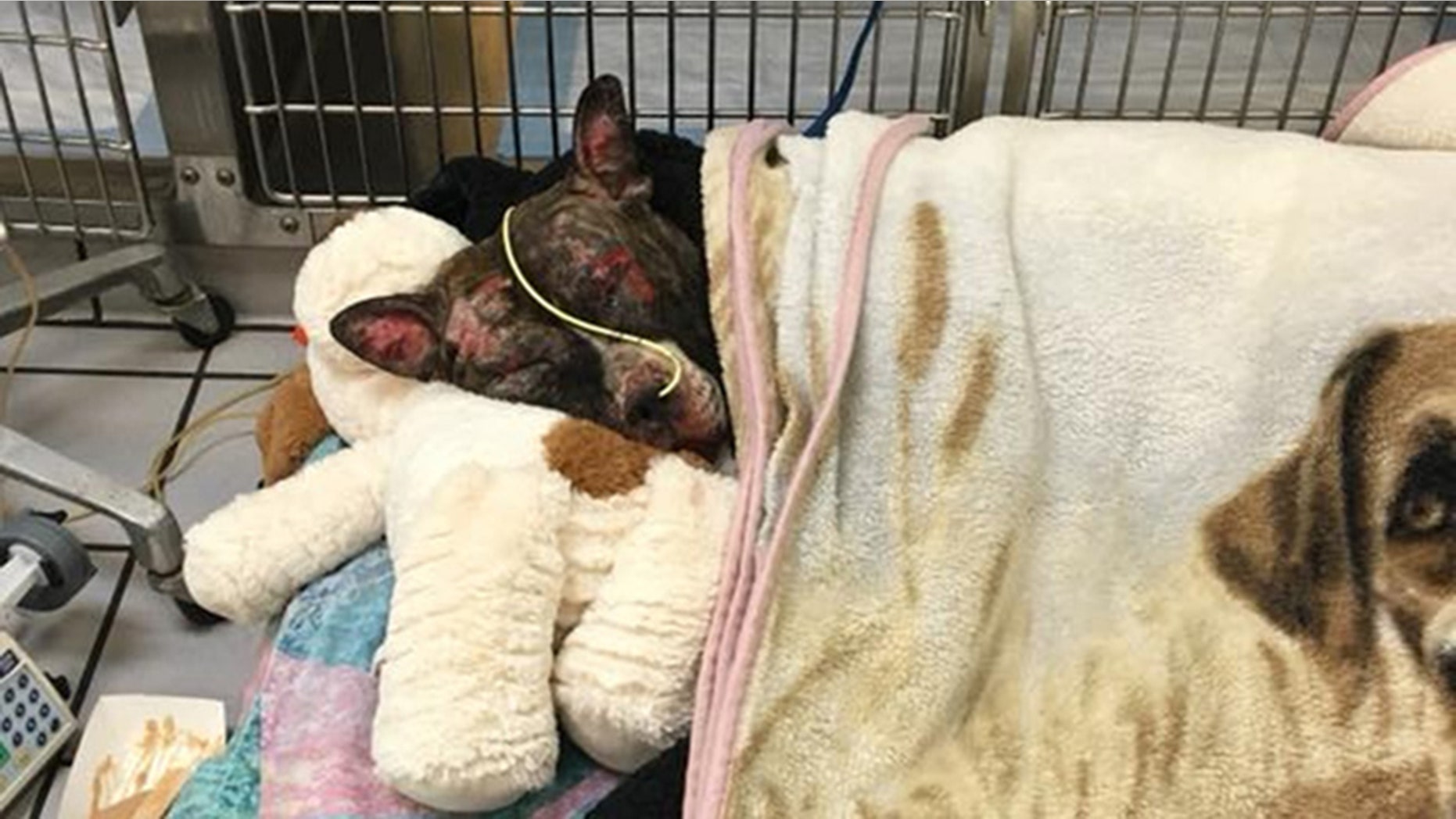 "Tommie," a male pit bull, was found at a park in Richmond, Virginia, covered in accelerant. The animal shelter that took him in said he was "intentionally lit on fire." (Richmond Animal Care and Control)
A Virginia animal shelter is asking for the public's help looking for someone who apparently lit a dog on fire at a city park.
The dog, a male brindle pit bull, was found tied to a pole at a park in Richmond, "covered in accelerant and intentionally lit on fire," Richmond Animal Care and Control wrote in a Facebook post on Monday.
FRENCH TOWN IMPOSES FINE ON DOG OWNERS FOR 'PROLONGED BARKING'
Witnesses told the shelter that an adult male "wearing multiple layers of pants" was spotted running from the area around 7:30 p.m. on Sunday.
Officials at the shelter, who named the dog Tommie, said that 40 percent of the dog's body was burned, and he is being treated at Virginia Veterinary Centers.
CLICK HERE TO GET THE FOX NEWS APP
As of Tuesday, Tommie was "doing ok. Just ok. Not much better but thankfully not much worse," the shelter said.
Those with information on the incident are urged to contact the Metro Richmond Crime Stoppers at 804-780-1000.
View the full article
13 Feb 2019
GREENWICH, Conn. – The ex-boyfriend of the New York woman whose body was found inside a suitcase in a wooded area of Connecticut was held without bail Tuesday on a charge carrying a potential death penalty.
Javier Enrique Da Silva Rojas, 24, of Queens, New York, was detained in the death of 24-year-old Valerie Reyes after he appeared in federal court in White Plains, New York.
The victim's body was found on Feb. 5 inside a suitcase discarded near a Connecticut road by highway workers. The discovery came after she was reported missing on Jan. 30 by her mother, father and boyfriend, authorities said.
Da Silva Rojas was arrested in Queens, New York, on Monday. A defense lawyer did not immediately return a message seeking comment.
Federal authorities said Da Silva Rojas told authorities in a videotaped interview at the New Rochelle Police Department that Reyes fell to the floor and hit her head after they had sex on Jan. 29 at her residence.
They said he indicated he put packing tape over her mouth, bound her legs and hands, and put her in a suitcase that he put in a forest after driving for some time.
Da Silva Rojas was charged with kidnapping resulting in death, which carries a potential penalty of death or life in prison. Prosecutors have not yet indicated if they will seek death if he is convicted.
William F. Sweeney Jr., head of the FBI's New York office, said federal authorities teamed with police in Greenwich and New Rochelle to "swiftly identify Javier Da Silva, an alleged murderer, and place him behind bars."
"While today's arrest is certainly a welcome conclusion, it in no way alleviates the pain and suffering Valerie's family will continue to feel for years to come. The reality of their situation is utterly unimaginable, as is the crime with which Da Silva is charged," Sweeney said.
Investigators "zeroed in" on Da Silva Rojas after he allegedly used Reyes' ATM card to withdraw cash multiple times after her death, Greenwich Police Capt. Robert Berry said.
"We are confident that the pursuit of justice for Valerie will be successful and we continue to work with the family to provide closure to this tragedy," Berry said in a written statement.
Reyes, of New Rochelle, New York, was reported missing when she did not show up for work Jan. 30 at a bookstore. Autopsy results from the Connecticut Office of the Chief Medical Examiner are still pending.
Police said they have examined hundreds of hours of surveillance footage in the case and interviewed several potential witnesses.
Reyes had worked at a Barnes & Noble store in Eastchester, New York, since it opened 2 ½ years ago, according to the bookstore chain.
___
This story has been corrected to show that police in Greenwich announced the arrest but did not make it and to reflect the defendant's name as it is provided in court documents.
View the full article
13 Feb 2019
TALLAHASSEE, Fla. – Wrapping up a three-month investigation, Florida authorities said Tuesday that a 40-year-old man who killed two people and injured five others in a yoga studio was a "disturbed individual" with a "hatred towards women."
Tallahassee police said after conducting dozens of interviews and reviewing thousands of pages of documents they found no evidence that Scott Paul Beierle targeted anyone specifically in the frenzied shooting that happened last November.
But the investigation found that Beierle — who police said had a pattern of sexual misconduct stretching back to grade school — planned the attack in advance and was expecting to die once it was over. Authorities also said he had a history of accessing yoga-related pornography. Materials authored by him included themes of rape, torture and murder. A website he maintained prompted one woman to alert the FBI about his website months before the shooting.
Shortly before sunset, Beierle posed as a customer attending a yoga class in an upscale shopping center located in Tallahassee's trendy midtown area. Once in the class, he took a gun out of a bag he brought with him and began shooting. A 61-year-old faculty member at Florida State University and a 21-year-old FSU student from Georgia were killed after he shot them from behind. Four others were shot and another was pistol-whipped. Beierle, who had previously attended FSU but had moved to central Florida, then killed himself.
"Scott Beierle was a disturbed individual who harbored hatred towards women," said Tallahassee Police Chief Michael DeLeo. "Although there was no specific target at the yoga studio on the night of November 2, Scott Beierle's lifetime of misogynistic attitudes caused him to attack a familiar community where he had been arrested several times for his previous violent action towards women."
In the years leading up to the attack, Beierle had been kicked out of the military, arrested and fired from a job as a substitute teacher. Police said during his time in the U.S. Army he was investigated for inappropriate contact with female soldiers. He was honorably discharged in 2010 for "unacceptable conduct." In 2012, he was arrested twice for grabbing women on FSU's campus.
He was fired from a job with Leon County schools because he sought pornographic material while he worked as a teacher. He was fired in 2018 from Volusia County schools because he touched a female student inappropriately.
Beierle was a military veteran with degrees from Binghamton University and Florida State University. Raised in Vestal, New York, he appeared to have made videos detailing his hatred of everything from the Affordable Care Act to girls who'd allegedly mistreated him in middle school. The videos were removed from YouTube after the shooting.
Police did say that the investigation showed the wife of a friend of Beierle submitted a tip about him to the FBI in August 2018 after seeing the content of his website. But DeLeo said that the FBI determined the tip was "non actionable."
Nearly three weeks before the shooting, Beierle booked his hotel room. Then on Halloween, he bought a yoga mat at a Walmart in central Florida before driving that day to Tallahassee. Two days later, surveillance video showed he left the hotel wearing a fanny pack and carrying a black bag. DeLeo said it was obvious that he had no plans to return because Beierle left behind his two hotel keys as well as files and records in the room.
He had nearly 100 rounds, but during the attack one of the victims struck him with a vacuum cleaner. During the struggle, Beierle's gun malfunctioned and people were able to escape. As one injured victim pretended to be dead on the floor, she told police she heard him say something before hearing a single gunshot. She looked up and saw him laying on top of one the people he killed.
"This could have been even worse than it was," DeLeo said.
View the full article
Site Navigation
0 members, 19 visitors and 0 anonymous users
Example Block (PHP)
This is an example block
Guest
, for
Planet-Ripper
.
PHP and most IPB code will work in
here
.
Example Block (HTML)
This is an example html block without the use of the sidebar block template.

HTML and IPB css will work in here.
1,693

Total Posts

1,723

Total Members
PierreDub Newest Member

88

Most Online
19 users are online (in the past 15 minutes)
0 members, 19 guests, 0 anonymous users (See full list)